If you're looking for something new and exciting to spice up your pleasure and your life, try getting
VIVA AWA
's
glass
sex
toy
! Not only is it not just aesthetically pleasing, but its ability to both heat and cool makes it especially versatile, providing you with a refreshing experience during the summer and something to excite and awaken your more daring desires when the temperature drops. Find out more about this amazing item and how to get it through VIVA AWA, with no further wait!
Glass Sex Toy: A feeling of freshness or warmth
One of the main advantages of the glass sex toy lies in its ability to retain heat or coolness, thus giving rise to new sensations ideal for spicing up your antics!
Raise the temperature with your glass sex toy
Do you want to rekindle the flame of your desire? Place your glass sex toy in a container filled with hot to boiling water for about ten minutes. Then let it cool down a bit before using it, so your toy is warm but not hot. You will be able to discover new comforting sensations, perfect for warming you up during the cold winter seasons! In contact with your intimate areas, the heat will give you soft sensations, and will increase your pleasure tenfold by sensitizing your erogenous zones. In addition, the heat released by your sex toy will probably remind you of that of your partner, boiling with desire for you… Take advantage of this to make your antics even hotter, solo or in pairs!
Cool your ardor...
Do you want to refresh your antics with the summer heat? It's very simple, all you have to do is place your glass sex toy in the fridge for about fifteen minutes to enjoy an instant cooling effect! Have fun licking its crystalline surface before languidly kissing your other half, or even giving him a fresh blow job or cunnilingus to accentuate his sensations! Your toy can also be used to vary the pleasures during anal or vaginal penetration. The coolness of the glass will create a most pleasurable thermal shock with the warmth of your intimacy... Ideal for cooling the ardent fire that burns inside you!
Selection of Glass Sex Toys
You don't have a glass sex toy yet? Find our selection of glass toys to spice up your antics!
Superb object of pleasure, this glass dildo has many reliefs to accentuate the sensations with each back and forth! Its straight and elongated shape will allow you to use it for anal or vaginal penetration. Glass is a material compatible with water-based and silicone-based lubricants.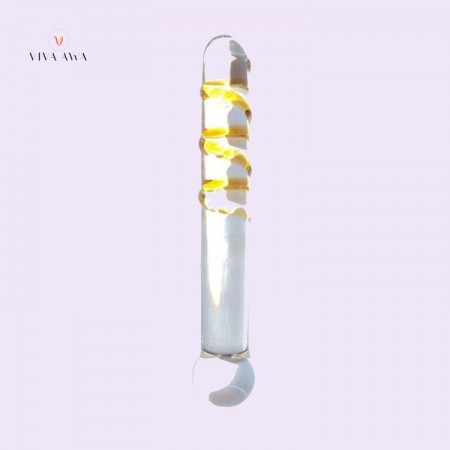 Featuring one curved end and one beaded end, this glass dildo is all about versatility, and it's great for newbies and old pros alike. The size is non-intimidating, the weight is substantial without feeling heavy, and it's designed for both internal and A-spot stimulation.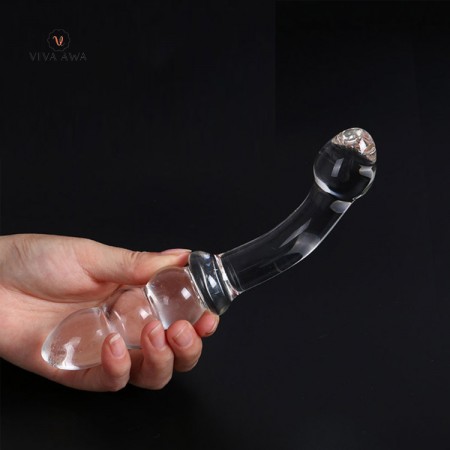 This hiiighly unique dildo may look more like a tentacle than a tongue, but don't let its appearance intimidate you. Complete with exaggerated buds and veins, this nubby toy provides SO many thrilling sensations, while the looped handle makes handling it a breeze. It'll make a v fun addition to your collection, trust.
"Tentacle" sounds a little intense, but according to VIVA AWA resident sexologist Jess O'Reilly, PhD, textured dildos are actually quite comfortable—and fun to use—with a little bit of silicone- or water-based lube. "You'll still find that they glide smoothly, and you can apply a good amount of pressure," she says. This one's got nubs, bumps, and veinlike ridges on both the underside and the top for varied sensations, and the shape is meant to mimic the vagina's natural curve.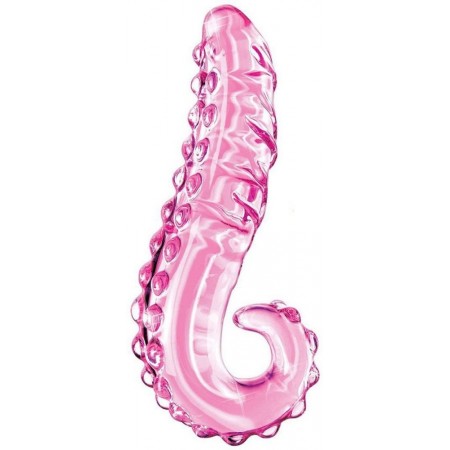 Show yourself some love with this pretty glass dildo from Crystal Clear. Its shapely curves expertly massage your internal pleasure zones (be they vaginal or anal), while the flared tip and heart handle decoration offer a secure grip for peace of mind.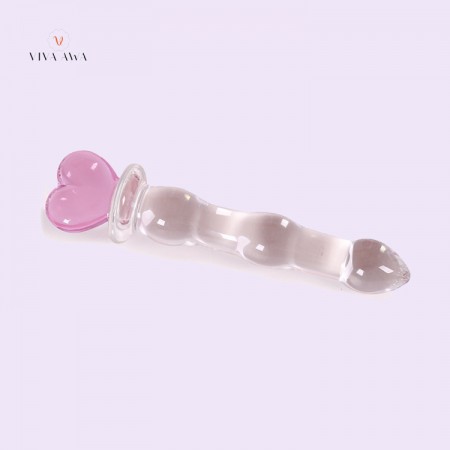 The glass sex toy turns out to be a real asset to spice up your sexuality. Don't wait any longer to get yours on www.viva-awa.com!