VIVA AWA
pride themselves on providing the highest quality anal beads to meet all your
sex toy
needs. Our
anal beads
feature progressive diameters which offer a soft insertion for the anus, delivering the pleasant sensation that you crave. Whether you're a novice looking to initiate yourself to the pleasures of sodomy gently, or are an experienced
sex toy
user looking to increase your sensations tenfold, our selection of 5
anal beads
provide the perfect fit.
What is an Anal Beads?
It gently stimulates the anus, the anal walls and the prostate thanks to its pearls with progressive diameters. This is what distinguishes it from a classic anal plug. In addition to being very aesthetic, the pearls make it possible to offer a progressive dilation of the anus. Therefore, this toy is very popular to prepare for anal penetration as part of foreplay! If you are new to your practice of sodomy, the anal beads can reassure you with their small dimensions, and provide you with gentle sensations. On the contrary, if you are used to stimulating your anus, you can go for models with larger diameters, to accentuate your pleasure. There are many
sex toys
on the market, and you don't know which one to choose?
Discover Our Selection of 5 Anal Beads!
Anal Beads: Make your Choice!
Are you looking for an anal beads to spice up your antics? We offer you a selection of 5 very different
anal sex toys
. Maybe you will find the sex toy you need!
Anal Beads Kit
Because it is not always easy to know which size to choose when starting out, the VIVA AWA offers you a
kit of 4 anal beads
to allow you to choose the stimulation you prefer! The anal kit contains 4 beads for the anus in soft silicone , allowing a pleasant insertion. Their buckle will offer you excellent maneuverability and a good grip. You can choose the sex toy that suits you best between more or less profiled balls , or stimulating twists!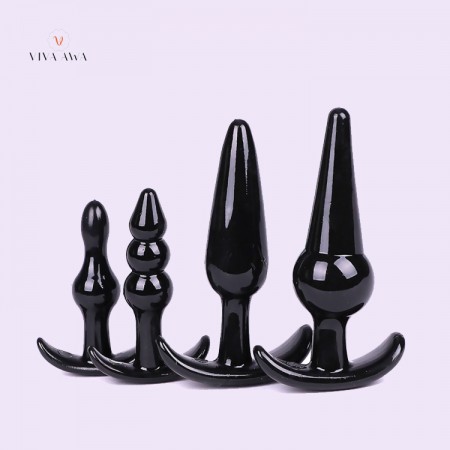 The Timeless Rosary for the Anus
Do you prefer to start with a completely classic anal sex toy? Opt for the
Anal Beads With A Pull Ring
! It will be particularly suitable for beginners looking for an easy-to-use sex toy with a small diameter. All you have to do is insert the smallest ball first, and so on until the last one when you are perfectly comfortable. You can then perform back and forth movements to increase the intensity of the stimulation. You will then be ready for your anal intercourse with your partner!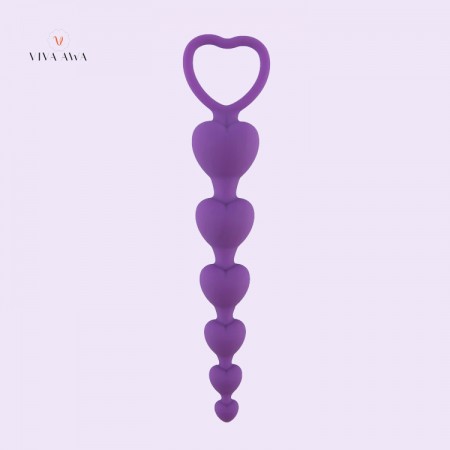 Vibrating Anal Beads
Do you want to intensify your foreplay? The
Vibrating Anal Beads
16 Vibration Modes
can help you increase your pleasure tenfold! A mini bullet stimulator is placed at the base of the sex toy, allowing you to diffuse powerful vibrations all along your anal toy. Therefore, once properly inserted, you will be able to feel the beads vibrate. Enough to make you discover an intense pleasure, until orgasm!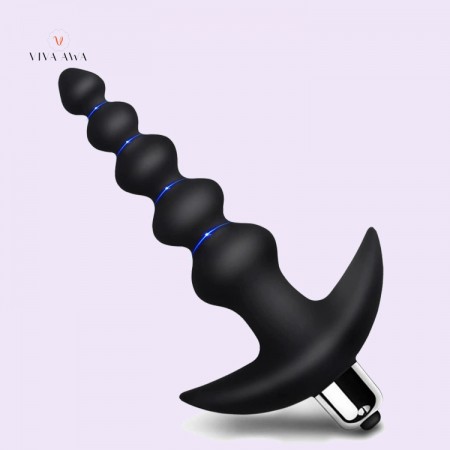 Glass Anal Sex Toy
Want to vary the pleasures? Choose a glass sex toy ! The
Glass Anal Beads Clear
has 4 balls ranging from 1 inch to 2 inch! In addition, you will have the possibility of playing with the temperatures. Place your sex toy in the fridge for cool sensations, or in hot water for comforting pleasure...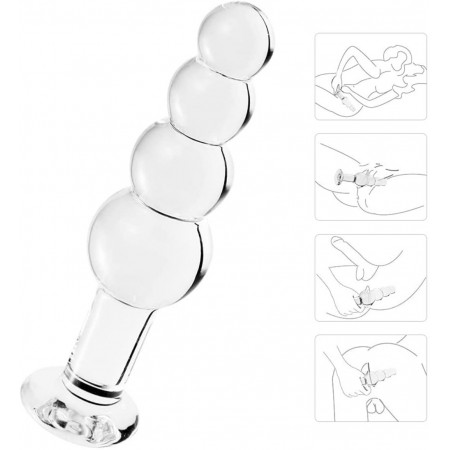 2-in-1 Anal Sex Toy
Some anal sex toys have been specially designed for male pleasure. This is the case with the
Vibrating Cock Ring With Anal Beads
! It has 5 pearls capable of gently stimulating your anus. But that's not all ! It also has a long silicone part that turns into a soft and flexible cock ring to place around the penis. It will then act like a classic penis ring, giving you a firmer and longer lasting erection. Take advantage of an entirely new double stimulation!

We hope this article has helped you find the perfect anal beads for you!