Ultimate Chastity Cage Guide - Find Your Perfect Cock Cage
The most common way for males to observe male chastity is via the use of male chastity cages, often known as cock cages.
The practice of male chastity occurs when a man makes the decision to either limit himself or pass over control of his pleasure to another person (often a Mistress).
Chastity is practiced by a significant number of heterosexual males for reasons other than the avoidance of orgasm. Chastity may include aspects such as role reversal, dominance and submission, humiliation, bondage, and a wide variety of other sexual practices and dynamics.
No matter the kind of chastity vow you want to take, the most essential step will be to locate the chastity cage that is best suitable for you. When there are several alternatives to choose from, it is simple to feel overwhelmed and confused.
Continue reading to find out more about the many kinds of cages, so that you can choose the Cock Cage that best suits your needs right now.
The Anatomy Of A
chastity
Cage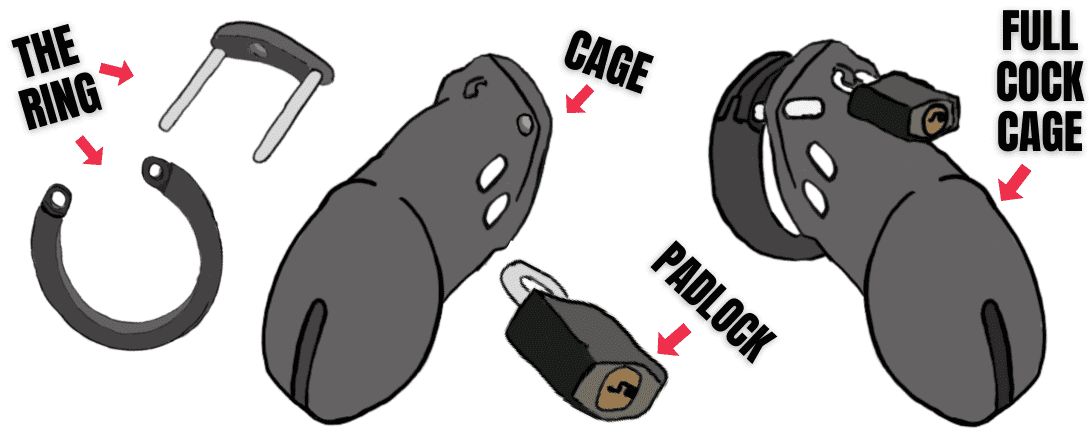 First, I'll go over the cock cage's anatomy, showing you where everything goes and how it functions.
The Ring: The Ring The ring is the first piece to be attached. It hooks up to the cage behind your genitalia. This ensures that everything stays where it should be.
The Cage/Tube: This is where you'll insert your shaft.
The Padlock: To keep the cage shut, this is fastened around the ring and cage. However, some cages have their own locking system and do not come with a padlock.
These three definitions will help you comprehend what each portion accomplishes and what it refers to while conducting research on cock cages, which may be constructed of plastic, silicone, or metal and come in two pieces or as a single item.
Cock Cages: Consent and Safety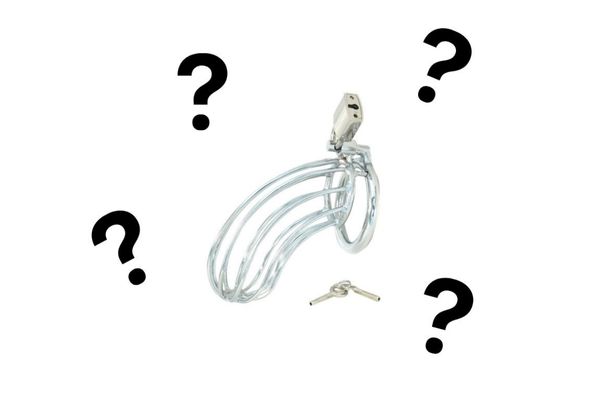 First, I'll explain the fundamentals of chastity cage use for both the wearer and the key holder, and only then will we get into the specifics of male chastity cages. Those that indulge in BDSM culture on a regular basis use a term known as SSSC, which stands for "Safe, Sane, Sober, Consensual." This includes the practice of utilizing chastity cages on male partners.
It goes without saying that you shouldn't engage in BDSM with an insane person, or consent to anything while high.
We've all had embarrassing sexual experiences while inebriated that we'd rather forget.
Therefore, security and informed permission are the two most crucial factors to consider while using a cock cage.
Consent
Before agreeing to use a male chastity cages, you should ensure that you fully understand the implications of doing so and agree to abide by whatever regulations the key holder establishes. Furthermore, key holders are forbidden from pressuring others to use chastity aids. Love and trust are at the heart of the consenting relationship, along with autonomy over one's own body and choices.
Without such components, it is inappropriate to either wear or request that another person wear a cock cage. So, too, do final demands.
Safety
Once agreement is reached, safety measures must be put in place. What to do if the person wearing a cock cage has an urgent cause that requires them to take it off right now. There has to be a means to instantly free the user of the gadget if they are involved in an accident and need emergency medical attention (such as X-rays, an MRI, etc.).
Consequently, if the two parties involved are only engaging in a playful dream, the one wearing the cage should be permitted to keep a key. However, in the event of BDSM activity, the wearer should be able to submit to their partner a safe word that, depending on the kind of chastity cage being used, enables them to unlock or otherwise have access to a key.
Therefore, prior to using the chastity cages, it is essential to sit down and lay out a safe word and how the cage wearer may get the key in case of emergency.
Measuring Your Chastity Cage Size

If you want to avoid any pain or discomfort, it's a good idea to measure your chastity size before you get started. It's easy and only has to be done once, but there are a few items you'll need to get started:
Measuring Tools
Thick String: White thread is preferable since it is easier to read, but any color will suffice as long as your black marker shows up. After you've tagged the string, you may use a ruler to make a permanent mark on the appropriate scale.
Marked Cloth: If you don't have any string on available, you may also use fabric; it's not ideal, but you can mark your cock size on a piece of cloth, cut it into a long, thin strip, and then use it to measure against a ruler.
Sizing Rings: If you're planning on spending a lot of money on a metal cage (typically a custom cage), these sizing rings will come in very handy. All you have to do is relax and try them on; once you find the right fit, leave it on for a few hours to make sure it still feels right; and then you'll have your exact measurements.
The Cage/Tube Measurements
For this, you only need the length of your penis. The cage/tube is the component of the gadget that you place your flaccid cock into.
While standing straight, from the base of your flaccid shaft measure to the tip of your penis, you may use the ruler for this section if you need to. Take the measures and do it a few times over the course of an hour, to make sure you're not aroused or getting them incorrectly, and write down each measurement.
You may also do the same but from the base of your penis where your scrotum begins to the tip since certain cage suppliers utilize these measures.
Subtracting: Double verify with your cage supplier but as a general, you normally remove 1/4″ from the measurement to guarantee the cage will be a nice and snug fit.
The Ring Measurments


Repeat this many times to get an accurate measurement, then mark the string at the point where it crosses the base of your penis and scrotum, behind the balls.
Don't pull the rope too tightly while measuring; most rings like some slack. If the string isn't causing any pain or restricting blood flow after 20 minutes, you may leave it in place.
Flaccid Cock Diameter


When your cock is totally relaxed, find the thickest point of your penis shaft (typically in the center) and measure it with the string.
Ideal cages For Your Size
All of our cages include ring sets so that your bright new cage may accommodate a wide range of ring sizes (plus you can try them all to see which kind of tightness you like the most).
Getting Erections Ruin Your Measurements
The measurements will be inaccurate since every time you touch your cock you grow a bit harder. It helps to take the measures while doing something calm, like watching TV or playing a video game, and then to get yourself off once, twice, or even three times before submitting the results. While you're trying out your new item, try to chill off and not give it any thought.
Don't Worry Too Much
If your cage has additional rings of varying sizes, like the ones I indicated before, your little deviation won't make a huge difference. Your cage will turn out great as long as you don't stress about being precise.
Not a owner of a chastity cage just yet? Find the best chastity cage for you here


How to Put on a Chastity Cage?



I will demonstrate how to put on a chastity cage in three simple steps for you right now. I will do it by using a visual tutorial in order to make it simple for you to follow along.
How to Put on a Male Chastity Cage in 3 Easy Steps
#1 Lube Up and Slip on the Ring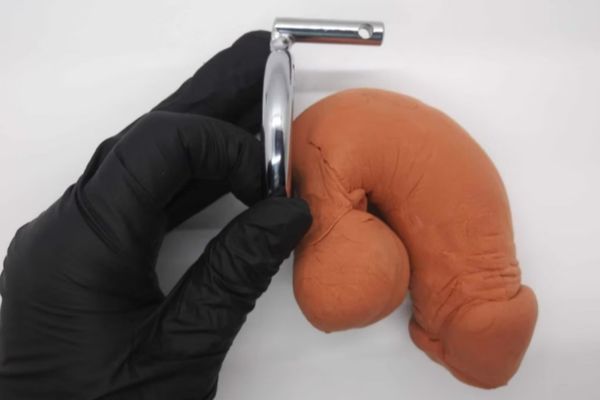 Use any kind of personal lubricant and apply it softly all over your flaccid penis and testicles. You cannot wear a chastity cage if you have an erection in your penis, thus this step is necessary. Place the ring so that it is flush against your body by passing it over your penis and then hiding it behind your scrotum.
#2 Place Your Penis Inside the Cock Cage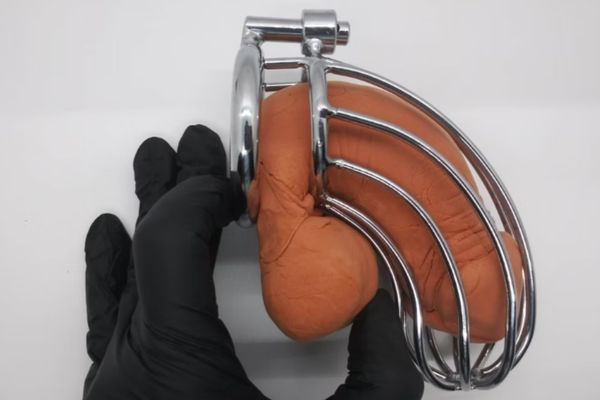 Position the cage so that it covers your limp penis and check to see that the openings and locking pins are aligned properly. When it is installed correctly, the cage shouldn't be overly restrictive. You should have some space all the way around, but it shouldn't be enough for you to obtain an erection. After that, connect the ring and the cage by positioning the pins on the ring so that they are aligned with the holes on the cage.
#3 Lock the Chastity Cage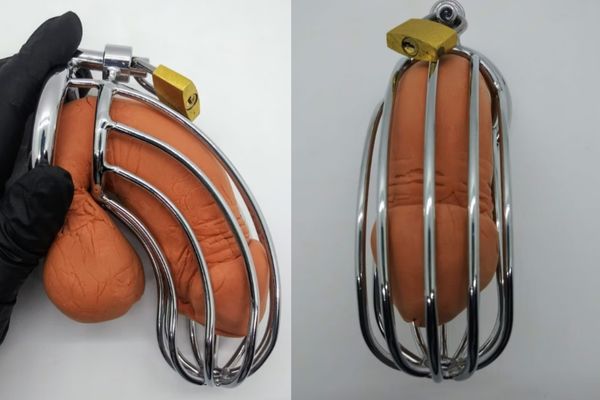 Is a Chastity Cage Right for You?
We hope that this article has provided you with the information you need to make an educated choice, regardless of whether you are just testing the waters of BDSM or are thinking about using a male chastity cage for other reasons. And if you're just here to learn how to put on a chastity cage, we wish you the best of luck and pray that everything goes well for you. I hope you are now safely locked up and making the most of the sexual deprivation you are experiencing.Not a owner of a chastity cage just yet? Find the best cock cage for you here.