Thrusting Vibrator Dildo Big Powerful Massager India Silicone Clitorisl Vagina Stimulator Adult Sex Toys
INFO
- Product Code: VA9318
- Availability: In Stock
₹27,520.0
₹7,999.0
Ex Tax: ₹7,999.0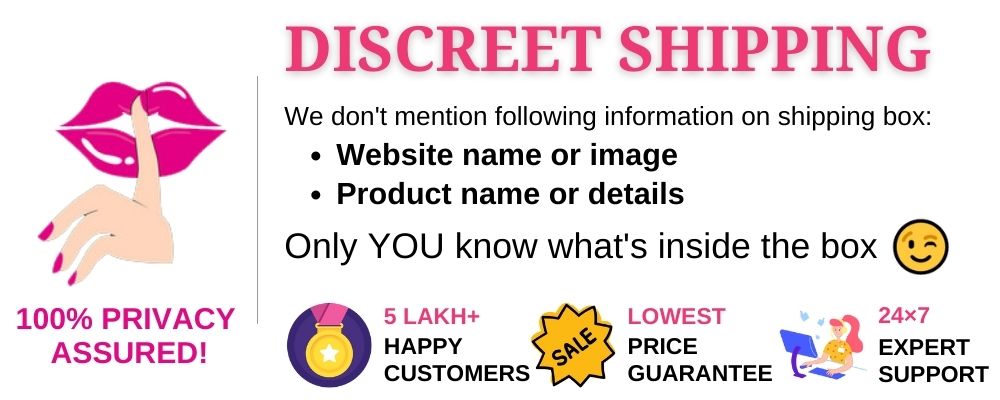 Crafted from Ultra-smooth and Luxurious Material
Its soft body are made from the ultra-smooth and luxurious material, so they'll feel amazing dancing across your sweet spots. Feel it buzz with low, medium, and high vibration speeds, plus pulsation and escalation.
Inimitable and Realistic Design
It's detailed to perfection with its realistic head, the way its authentic tip is perfectly positioned to hit your most sensitive areas; The dual-button to control the vibrating testicles and the thrusting shaft, it evokes powerful vibrations that send shivers around your body and directly onto your G-spot.
Lithium-ion battery charging and simple function cooperate
press up function to start the thrusting fuction and down button to control the vibrating. To heating the vibrator with 0 button. Each button press 2-3 second to start!
Experience the Feel of Pure Thrusting Power
Press a button, and the shaft's cushioned tip starts to thrust up and down. Feel it go deep and reach hot spots you've never felt before! Explore all 3 thrusting power levels and 10 vibration modes for the perfect amount of pleasure, which lets you get as wild as you wanna be.
Intelligent Heating Function
The large thrusting dildo vibrator can be heated to htuman body temperature, make you climax up and down, tide surging constantly.
Dual Motors For Clitoris & Hot-spot Pleasure
Unique thrusting style clitoral stimulators with 2 motors(one is in shaft, another one is in testis, each independently driven by its own motor for deep powerful vibrations) to thrill you which make you feel dual stimulation for Clitoris & hot-spot Pleasure. Just indulge in it!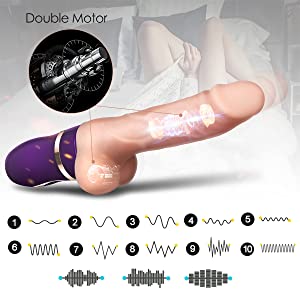 Lifelike Vibrator With Powerful Back-and-forth Thrusting Action
Realistic-looking shaft thrusts back and forth with 3 speeds and 10 patterns, providing powerful, rhythmic thrusting for a climax unlike any other, while the thrusting head targets your internal hotspots. No matter which pulsation you choose, it will perfectly suit you!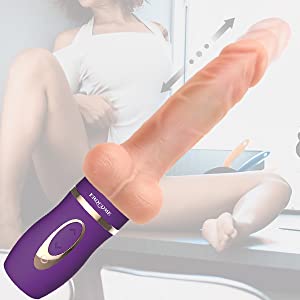 Intelligent Warming Makes You Climax Up And Down
Warm up just right to a warm cock temperature and with the Over-heat Protection, when you turn on the warming function, the hot spot Vibrator will slowly heat up to a maximum of body-safe 107℉ and stays constant, and automatically begins to heat again when the temperature dips down to 100℉.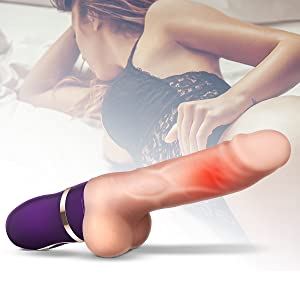 Luxury USB Rechargeable Silicone Thrusting Vibrator
Made from velvety-soft, skin-safe material, this USB rechargeable vibrator dildo offers whisper-quiet vibrations for discreet, pleasurable playtimes. what's more, contoured to work with the curves of your body, the curved, flexible tip effortlessly reaches your hot-spot.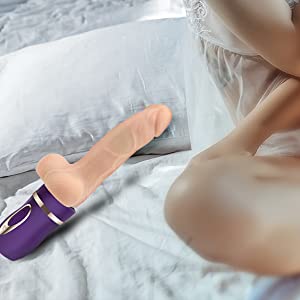 Larger Than Most To Meet All Your Needs
Sizing up a little larger than most and featuring a broad shaft for added stretch, enjoy your toy as part of solo or shared games. Take full advantage of its extra length to explore a multitude of angles of stimulation and discover new sensitive spots as you play.