It sounds like something out of a science fiction novel... something dreamed up by a bored dude's fantasies. Humanity has been hard at work producing different sex toys for men, such as hands-free masturbators, prostate massagers, and automatic fuck toys for men, since males are genetically hardwired to desire to be orgasming all night and day.
It's now possible to have a hands-free orgasm without a sexual partner, and we can do it! Yes, there are plenty of hands-free sex toys for women, so there's no reason for the ladies to feel left out! That does not, however, imply that it will be simple. You still need to focus and put in some effort if you want to achieve a male hands-free orgasm, despite recent advancements in technology and Hands Free Auto Strokers.
Whether you want to stimulate your prostate, penis, or perineum with one of these toys, we have gathered the greatest hands-free male sex toys on the market. The following collection of hands-free male sex toys is perfect for anybody, heterosexual or homosexual.
What are Automatic Hands-Free Male Masturbators?
Men's sex devices like hands-free masturbators make it easy for them to have a good time without having to exert any effort on their behalf. With these hands-free male sex gadgets, the user may have a lifelike sexual experience while also relaxing and avoiding wrist strain. Intense, mind-blowing sexual pleasure may be provided without the user having to do the stroking movements himself.
Automatic hands-free male masturbators are available in a broad range of models, making it easy to pick one that meets your demands and provides you with the utmost in sexual pleasure.. A sot, human-like sleeve is generally used to encase the dick, creating an out-of-this-world, lifelike feeling. So you don't have to lift a finger since they're driven by motors.
Hands-free male masturbators may also assist reduce tension and strengthen your muscles so that you can last longer during penetrative sex. With these devices, guys may enjoy themselves without straining their wrists and creating penis death grips, which can cause chafing as well as lessened sensitivities.

Our Top 6 Best Automatic Hands Free Male Masturbators in 2022
Automatic sex and masturbation are the icing on the cake of all automatic things. Even more so if you're fortunate enough to get your hands on the perfect gadget. With hundreds of identical products on the market today, only a few of them may inspire imitators since they are made with high-end, ergonomic and user-friendly components that are easy to use and maintain.
Hands-free masturbators for males have sold in the millions, maybe because they are the finest illustrations of what occurs when human depravity meets human ingenuity: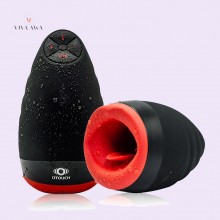 Experience unforgettable climaxes with this luxurious masturbator. The masturbator not only vibrates, but also has a warming effect for extra stimulation. The masturbator is equipped with 9 vibration settings: 6 patterns and 3 speeds. It is made of premium silicone and has a smooth inner structure. The masturbator is rechargeable with the included USB cable.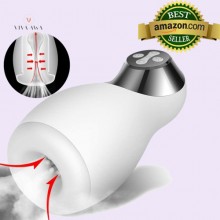 Inhale deeply and exhale gently, insert into the deepest part of the mouth to feel the contraction of the throat, restore the true feeling of oral sex.
After a period of research, we launched this male masturbation cup with a real sense of oral sex. It has a real breathing rhythm. You can feel that a mature and elegant woman wraps your pennis tightly with her sexy lips. Inserted into the deepest part of her mouth, against her throat, she could hardly breathe and made a vomiting sound, as you pull out your cock, she exhales slowly. What a wonderful feeling!

How to Use an Automatic Male Masturbator?
Although it may seem to be child's play, using a male masturbation machine requires far more effort than you may think. Here are a few recommendations to help you get the most out of your orgasms and get the most out of your sex life.
Take a look at the instructions in the user guide
You'll get the most use out of your hands-free masturbator if you read the handbook. It would also help to safeguard people.
Assemble the device's components
Set up your masturbator according to the kind you purchased. Each component must be thoroughly inspected to guarantee optimal operation. Make sure that the wall or floor where you want to connect your suction masturbator is robust enough for your weight. In addition, you must be able to use it comfortably.
Securing a dildo mount or sex machine to the ground, or wherever you want to masturbate, is essential. Secure the toy in the mount or machine by connecting it and making sure it's in the correct position.
Create a romantic atmosphere
Hands-free masturbators provide intimacy, but you must create the perfect atmosphere to get the most enjoyment out of these gadgets. To get things started, play some calm music and make sure you have everything you need close at hand. You may even start the romance by dimming the lights or talking on the phone with your sweetheart.
Remember to apply lubricant
Do not lubricate your electric male masturbator without it. Lubricate both your penis and the aperture of your masturbation apparatus using a lubricating product. Apply lubricant to your anal area if you desire anal stimulation. When using these gadgets, you should make sure your genitals are well-lubricated in order to avoid feeling chafed. Lubrication is usually a good idea, since too much friction may be quite painful.
Enjoy yourself and try new things
Soft, lifelike materials are often used in the construction of automated male strokers, allowing users to apply pressure and grasp with ease. A motorized masturbator's movable cap may control how much suction and pressure is applied. As a result, you are free to play with with different levels of suction and pressure. Allow yourself some time to become used to the hands-free movements.
Automatic Male Masturbator VS Manual: Which One do I Pick?
As far as which masturbator is best for you, it's all about personal taste, and both manual and vibrating models have their advantages and disadvantages. A manual masturbator is more likely to provide you with a feeling akin to penetrative sex, and you can also use them with various attachments so that they may be used hands-free. A variety of vibration settings on a male vibrator will allow you to experience feelings you wouldn't get from using a sex toy.
You'll notice that there are pricing discrepancies between the two, with disposable manual silicone masturbators costing less than ₹1000 and high-tech options costing up to ₹20000.
Hands-Free Male Masturbator FAQ
How to clean an automatic male masturbator?
It is necessary to separate the components of an automated male masturbator before washing each one individually. To prevent harming the material, avoid cleaning on the fleshy section. Dehydrate the masturbator.
How to choose hands free male masturbator?
There are a lot of options out there, however the most of them are made of silicone. You should also think about what size suits you best and how much you want to spend. Finally, take into account your own tastes while looking at the features.
Why should I use a hands free masturbator?
Even if you're presently in a committed, monogamous relationship with someone you like fucking, utilizing a self-pleasure equipment like this may have several benefits.
As well as making you shiver when used alone, these gadgets may also enhance your sexual skillset, raise your bedroom confidence, stimulate your erotic inventiveness, encourage greater endurance, assist normal social interactions, and make your spouse happy during a real-time, interactive lovemaking party.
Can I get hurt in any way by masturbating with an automated contraption like this?
Almost no harm can come to you if you follow the manufacturer's instructions and never do something silly with your toy.
At the very least, most high-end cock contraptions have a safety switch built in.
Remember to use lots of lubricant and avoid submerging yours in water (particularly if it has electrical components).
Can I enjoy these toys while wearing a condom?
A good starting point would be to ask yourself, why on earth would you want to use an artificial contraceptive device while engaging in sex? If you're going to go through with it, realize that it's not always going to work.
Most gadgets jerk and suck your crotch so well that a condom would either get in the way or be ripped off by accident.
Your masturbation methods may have to change, or at least your choice of sexual toys, since condoms and 99.9% of the world's automatic jerk-off machines don't get along.